Veterinarians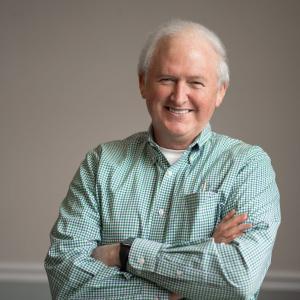 Dr. Jim Lane

Owner, Veterinarian
Dr. Jim Lane was raised on a Kentucky dairy farm, where he grew up in awe of the local veterinarian's ability to nurture sick cattle back to health. Dr. Lane's father said on multiple occasions that he thought his son would make a great veterinarian—those words of encouragement made a permanent impression. Dr. Lane knew that a career in the veterinary world was the perfect fit!
Dr. Lane attended Western Kentucky University for his undergraduate studies before heading to Auburn University's School of Veterinary Medicine to earn his Doctorate. He graduated as a licensed veterinarian in 1984 and launched his career in private practice—Dr. Lane has been treating pets professionally ever since. He moved his family to Cleveland in 1991, and bought a local animal clinic two years later. After a few years of continual growth, the hospital changed locations in 1997 and Community Animal Hospital was born!
When he isn't tending to pets' needs here at the clinic, Dr. Lane enjoys gardening and caring for a variety of animals at home (including a one-legged chicken, a one-eyed donkey, and a three-and-a-half-legged Angus cow!). He and his wife, Kathy, have three children—Ryan, Hannah, and Morgan—as well as two wonderful grandsons.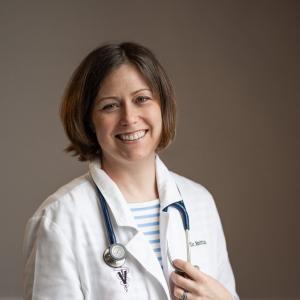 Dr. Laura Brittain

Associate Veterinarian
Dr. Laura Brittain worked in the business world for several years after college, but soon found that she wasn't truly fulfilled. She'd always dreamt about doing something involving animal care—that's when Dr. Brittain decided to take a leap of faith and pursue her passion! Now, she couldn't be happier to help pets daily as one of Community Animal Hospital's Associate Veterinarians.
Dr. Brittain was born in Germany thanks to her father's career in the United States Army, but grew up here in Cleveland and even took her childhood pets to Dr. Lane. She holds a degree in international marketing from the University of Alabama, and worked in the publishing world for a time as well as in other companies in the marketing and management fields. Dr. Brittain returned to her alma mater to take veterinary pre-requisites, working as a Veterinary Technician and volunteering at the local zoo at the same time. Next, she gained acceptance to Auburn University to become a licensed veterinarian.
Dr. Brittain has been a member of the Community Animal Hospital family since June of 2013. Medically, she's passionate about the detail-oriented nature of soft-tissue surgeries, internal medicine and endocrinology work, and critical care cases. Dr. Brittain's favorite part of her day, though, is getting to know patients and their loving owners on a personal basis.
Dr. Brittain's interests outside of the veterinary world include traveling, scuba diving, horseback riding, and reading. She and her husband have a beautiful young daughter and also share their lives with a number of pets. They have Emmy, a Yellow Labrador mix who Dr. Brittain delivered herself; a rescued dog named Ellie; and a Quarter horse who goes by Dax.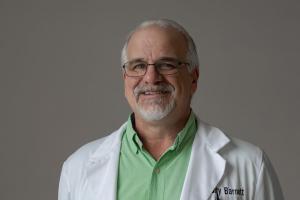 Dr. Rusty Barnett

Associate Veterinarian
Although Dr. Rusty Barnett had entertained the idea of becoming a veterinarian ever since he was a young boy, he eventually chose another career path and pursued that for many years. After getting married, Dr. Barnett's wife convinced him to go back to school to pursue his lifelong passion of animal care—he hasn't looked back since!
Dr. Barnett was born and raised in McMinn County, where he still lives. He moved to Knoxville in 1987 to attend veterinary school, graduating in 1990 before launching his career in Madisonville. Dr. Barnett would eventually own and operate his very own veterinary clinic in Etowah, Tennessee for 20 years! In October of 2015, Dr. Barnett joined the Community Animal Hospital team as an Associate Veterinarian and has been caring for Cleveland's pets ever since.
Aside from his interests in the veterinary world, Dr. Barnett enjoys cheering on his favorite sports teams, golfing, and playing with his grandchildren. He and his wife have two sons and a daughter, as well as two wonderful grandchildren, and they share their home with a Miniature Schnauzer named Phoebe.